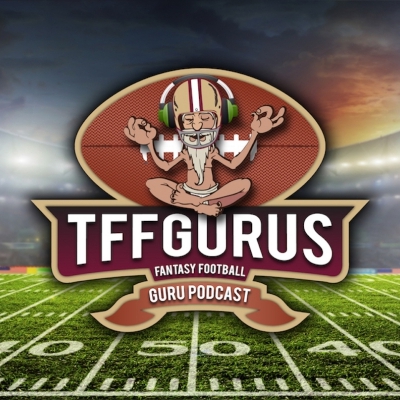 Ep.126 @DaFantasyFather & @Trotta23 are back to break down the 2019 NFL Draft! We give you our Love/Hates from the draft, talk GoT Ep3, Avengers Endgame (No Spoilers), we do a 2 Round Rookie Mock Draft, and we play "Who Would You Rather Have"!
We touch on all these players in our Love / Hate segment:
Kyler Murray
Andy Isabella
David Montgomery
Noah Fant
Diontae Johnson
Damien Harris
Rodney Anderson
Will Grier
Aj Brown
Darell Henderson
Miles Sanders
Parris Campbell
Hakeem Butler
Mecole Hardman
D.K. Metcalf
Josh Oliver
Bryce Love
Marquise Brown
Mike Webber
Stanley Morgan Jr.
Myles Boykin
Irv Smith Jr.
Dwayne Haskins
Deebo Samuel
Justice Hill
In Who Would You Rather Have: 
Andy Isabella or Hakeem Butler 
D.K. Metcalf or J.J. Arcega-Whiteside
Miles Sanders or David Montgomery
T.J. Hockenson or Noah Fant
N'keal Harry or Deebo Samuel
Marquise Brown or Mecole Hardman
Will Grier or Daniel Jones
Darrell Henderson or Damien Harris
Alexander Mattison or Ryquell Armstead
Rodney Anderson or Bryce Love
Irv Smith Jr. or Josh Oliver
Fantasy Football Sponsor:
Sit or Start Fantasy App - Download it today on the Google Play & Apple Store
Sit or Start Fantasy App takes stats, and presents them in ways to help users make better fantasy decisions.
Side by side player compares, player Performance and Analytics, Player Tracking, Daily Gaming Valuations
Weekly /Season Projections and more.
Don't forget to use our code Gurus when signing up!
Thrive Fantasy - A Brand NEW way to play DFS
Thrive Fantasy is a new Daily Fantasy Sports platform for player props. By focusing solely on top-tier athletes while streamlining the drafting process, we've created an engaging DFS game that even the casual sports fan can enjoy.
Click the link to double your initial deposit! - bit.ly/tffgurus
Do you Love the Show? Want to play against the Gurus in a listener league? Do you like the content we produce each week? Well, if that is the case then become a Patron of the Trophy Time Podcast by heading to https://www.patreon.com/TFFGurus. We appreciate all of your continued support!
Also, don't forget to Subscribe and follow the Trophy Time podcast on these major podcast providers: iTunes, Google Play, Spotify and Stitcher Radio. Search: Trophy Time Podcast or The Fantasy Football Gurus
Follow us on Twitter:
The Pod - @TrophyTimePod
The Fantasy Football Gurus - @TFFGurus
Doug - @DaFantasyFather
Josh - @Trotta23